Discover more from Creators' AI
Creators AI: AI insights, tools, guides for creators and entrepreneurs
ChatGPT With Vision & Voice, Amazon Back In Game, AI Across Meta Products
PLUS HOT AI Tools & Tutorials
👋 Hey, I'm Daniil and welcome to a ✨ news edition ✨ of Creators' AI. By subscribing, you directly support Creators' AI's mission to deliver top AI insights & practical knowledge without ads or clutter. Your subscription allows us to grow our dedicated team and curate the most important AI Tools, Stories, and Tutorials in one place. - Daniil
---
This Creators' AI Edition:
Featured Materials 🎟️

News of the week 🌍

Useful tools ⚒️

Hot Takes 🔥

Weekly Guides 📕

AI Meme of the Week 🤡

(Bonus) Materials 🎁

---
Sharing is caring! Refer someone who recently started a learning journey in AI. Make them more productive and earn rewards!
---
AI News in this edition 🌍
Featured Material 🎟️
ChatGPT can see, hear, and speak.
OpenAI, the creators of ChatGPT, announced new voice and image capabilities for the AI assistant to enable more intuitive interactions. The new features allow users to speak conversationally with ChatGPT and show it images to get relevant assistance. The image capabilities are powered by the multimodal GPT-4V (GPT-4 with Vision), which Open AI showcased earlier this year.
The voice feature allows real-time voice chats. Users can choose from 5 different voices and ask follow-up questions conversationally. The text-to-speech is powered by a model that can generate human-like voices from text in seconds. OpenAI collaborated with voice actors to create the five voice options and hasn't yet provided the option to create a custom voice.
I found many fun use cases including "meme explainer", fridge analyst and stock exchange guru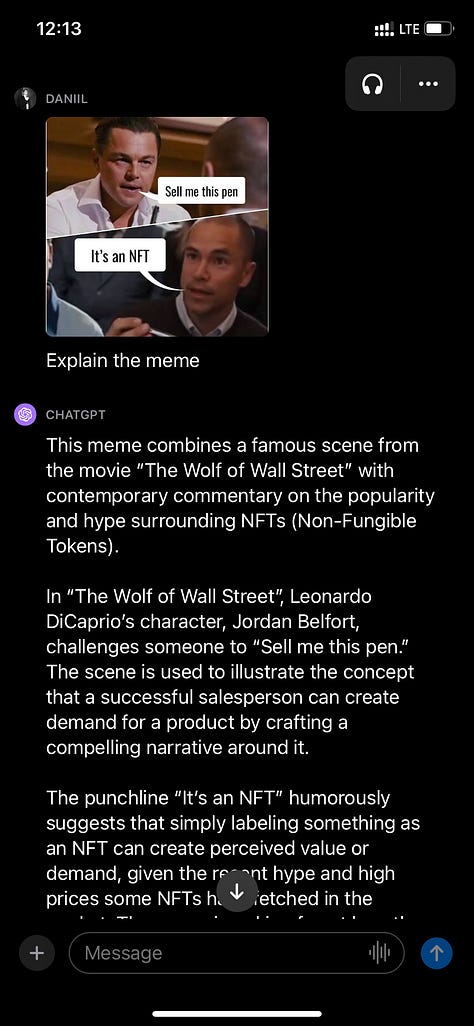 Available for ChatGPT Plus users
News of the week:
Check our archive of great tools and AI tutorials for generating images. By getting the App, you can seamlessly access all our previous posts.
Creators' AI is a reader-supported publication. To receive new posts and support our work, consider becoming a free or paid subscriber.
---
Useful Tools of the Week
⚒️
---
Creators' AI could be a valuable gift for your friend, colleague, or family member. Gifting books is bright, but giving an AI newsletter is a superb move 😎
---
Hot Takes 🔥
ChatGPT makes his first real friend (another ChatGPT)
Stonks will go up with ChatGPT-4V?
Do you want your AI tweets to be captured in Creators' AI?
---
Weekly Guides 📕
---
AI Meme of the Week 🤡
AI pls help
Source: Twitter
Share this with a friend who will need an explanation and tell him to ask ChatGPT 😁
Source: Creators' AI HQ
---
(Bonus) Material
🏆
---
⚡️ How was this week in AI? Share your content and ideas in the comments to this post so we can discuss or include them in the next edition!