AI Photobooth With $1M ARR: Pieter Levels Case
Step-by-Step Guide to creating an AI-based app for Photo creation
👋 Hey, I'm Daniil, and welcome to a ✨ subscriber-only edition ✨ of Creators' AI. Each week, we post AI Tools, Tutorials, News, and practical knowledge aimed at improving your life with AI. To get full access to our content, consider upgrading.
---
We are launching a community for active AI creators, makers & founders. 
If you recently launched or planning to launch your AI Product, this Community can help a lot with the following:
Marketing for your AI Product 

Product Hunt Launch Insights & Support

Peer-to-peer education & direct access to AI influencers

Development of AI Products
Less than 15 spots left for first batch of our community. Join our closed community of AI makers:
---
AI technology is growing rapidly and is creating many new business opportunities every day. Today, I want to share this incredible journey of Pieter Levels and how he used AI to make $1,000,000 in less than a year. Let's learn about how he did all that in this post.
This is his Twitter/X profile, and as mentioned he currently has 5 services that make $233,000 per month in total which are more than $2.7 Million yearly.
Pieter Levels started all this by using AI and taking advantage of the technology at the earliest, by building products around AI that common people could use and find fascinating.
He used AI to automate AI photoshoots, Avatars, and interiors initially.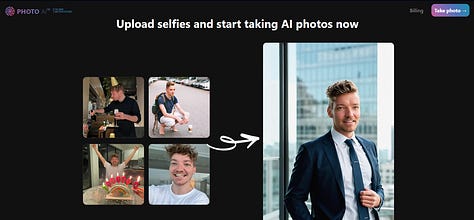 Other websites provide similar service and is thriving with great sales and great customer satisfaction which shows that there currently is high demand for this service.
StudioShot is another such website that charges $29.25 per person and they claim to have delivered over 0.5 Million headshots already, Taking account of at least 5 headshots per person that is a whopping $2.9M already.
Today we will learn how to create a Professional Photo Generator App
How to Train an AI Model for generating the images.

Developing the Backend of the whole application.

Creating a front end for the application for the users to interact with.

Setting up the payment gateway to start accepting payments
⚡️ Bonus: There is a ready made template that you can use to quickly deploy the App with almost no code.
---
Pieter Levels has made more than 75 startups and that too by doing it all solo and without even having a team, but only a very few of them turned out to be successful, so if you keep building relevant products to the market demand, you will be able to find the perfect product that will create a fortune for you.
To create an app like PhotoAI, we will need to develop the following aspects
AI model & back end

Front end

Payment
We will be discussing alternative ways for each of these steps here in this post, so you can literally be able to select an easier way to implement it depending on your skill set.
Let's begin with the first area which is the AI Model and Back-end
---
💡 Creators' AI subscription is the best gift for Creators and entrepreneurs diving into AI.
---
AI Model and the Back-end
Keep reading with a 7-day free trial
Subscribe to Creators' AI to keep reading this post and get 7 days of free access to the full post archives.