170k A Year On Faceless YouTube Shorts With AI: Reverse-Engineered
Step-by-Step Guide to Automating Video Creation using AI
👋 Hey, I'm Daniil, and welcome to a ✨ subscriber-only edition ✨ of Creators' AI. Each week, we post AI Tools, Tutorials, News, and practical knowledge aimed at improving your life with AI. To get full access to our content, consider upgrading.
---
We are launching a community for active AI creators, makers & founders. 
If you recently launched or planning to launch your AI Product, this Community can help a lot with the following:
Marketing for your AI Product 

Product Hunt Launch Insights & Support

Peer-to-peer education & direct access to AI influencers

Development of AI Products
Be part of this community to grow your AI work faster!
---
Faceless YouTube Channels are on the rise now, they are relatively easy to create consistently unlike other YouTube channels, and they can be just as successful as traditional channels.
The best thing is that AI plays a major role in making faceless YouTube videos faster and easier to create, some creators already make about $14,000 on average per month in revenue by using Faceless YouTube Videos.
This channel named 'Daily Facts Worth' for instance is using trending audio and stock footage to create shorts that are about random facts and these random facts can also be generated using AI.
Let's look at the social blade to see how much these pages make per month.
Here are a few other YouTube channels that are into the Faceless YouTube Channel in Facts niche: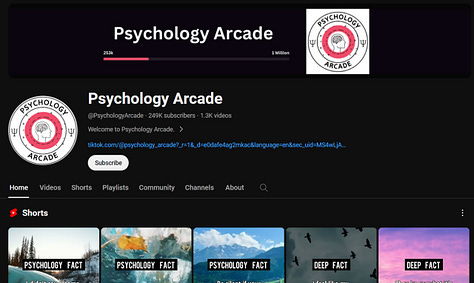 You can also create a YouTube channel that can potentially grow to thousands of followers and millions of views using the method we are going to explain.
So let's analyse how these channels are making these videos and learn about it in detail in this post and go through the whole process step-by-step.
Today we will learn how to create YouTube Shorts using AI
How to generate 100s of scripts for the content.

How to create a template for all of your videos to be made in.

How to Bulk Create 100s of videos in a matter of seconds using AI.

How to use AI Tools to generate unique videos with contextual videos.
---
First Method
ChatGPT
The first tool we will be using is ChatGPT, as we have to generate the content and scripts for the videos here we are selecting Psychology Facts as our topic but don't worry as the prompts are provided below.
The prompts are
You are an expert in writing psychological facts for 5 years. You have done intensive research on psychological facts. Now you need to write a few psychological facts but in a format that I am showing you in an example below.

Example 1: 

Did You Know? Psychology says, before you sleep...

99% of your brain begins to imagine things you would like to happen.


Example 2: 

Psychology Fact: 90% of the time your partner is falling in love when...

They start to use "we" and "us" instead of "I" and "me" when talking about the future.

Some more instructions: Make sure to put "..." after the first part. You need to put them in a table with the following columns: Hook, part one, part two  Put words like "did you know?" "interesting fact" or similar phrases in the Hook column. Generate 100 of these.
Using this prompt will generate the output needed for generating many videos as we have prompted it to generate 100 outputs in a table format, and let's arrange it in a Google Sheets file to get it organized.
The main tool that we will be using is…
Keep reading with a 7-day free trial
Subscribe to Creators' AI to keep reading this post and get 7 days of free access to the full post archives.